Cuerpos cosidos
Colección de mueble de guardado y asiento, set de biombos y lámparas modulares.

(Stitched Bodies)
Collection of storage furniture and seat, set of screens and modular lamps.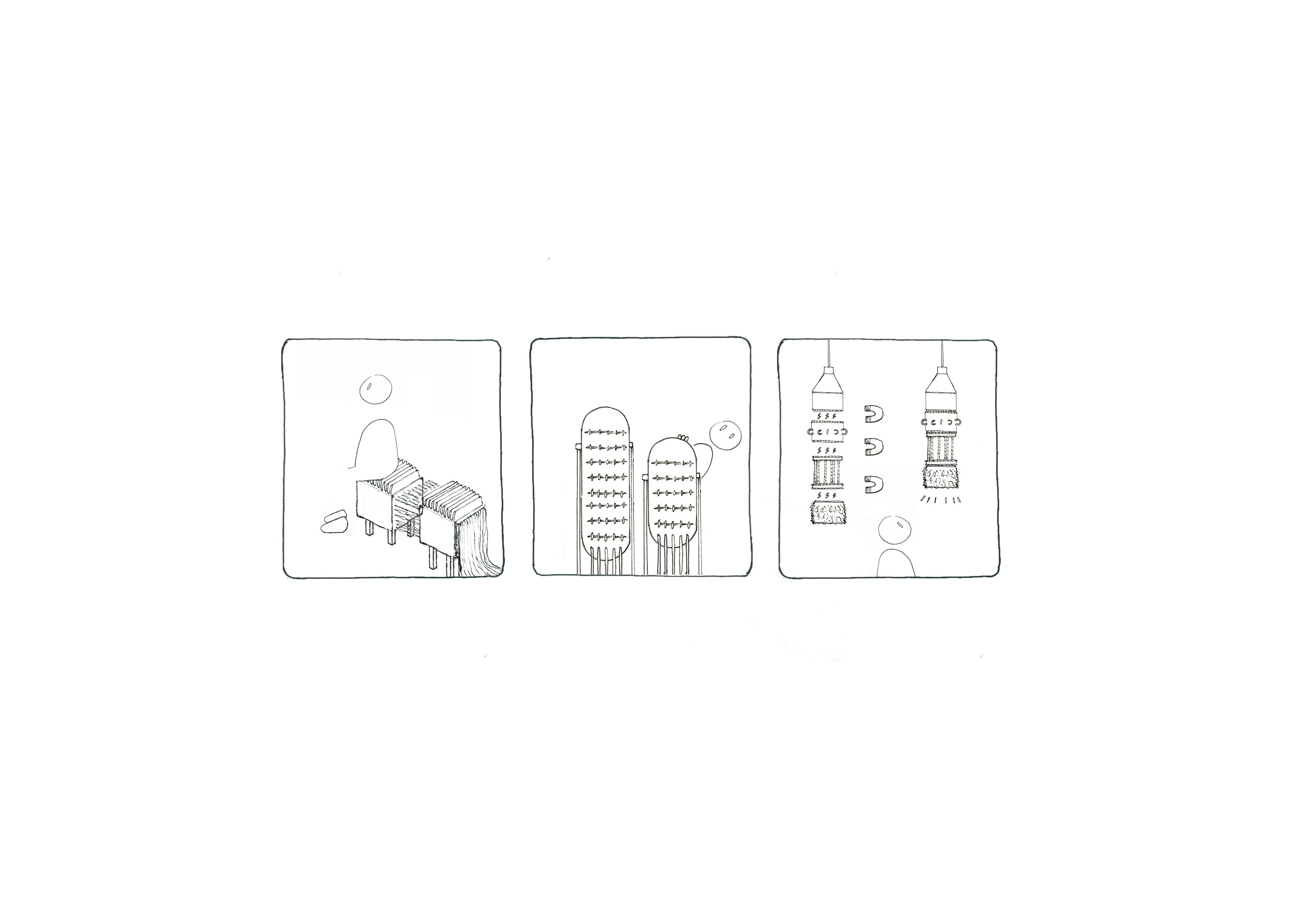 "Cuerpos cosidos" nace como un conjunto de objetos e ilustraciones producto del vínculo entre teatro, arte y diseño a partir de la obra "Penelope en Viaje". Penélope, cuya historia es siempre contada a espaldas de Ulises, no es más que aquella mujer que ha sido relegada ante la figura del héroe. Nadie habla de sus sufrimientos y sus penurias, nadie habla de la valentía de enfrentar la incertidumbre, de su odisea cotidiana. Es esta su prisión, aquello que silenciosamente la retiene en sus deberes de mujer, sus telares, sus hilos y bordados, en donde su cuerpo de madera se entrelaza en sogas que la enmudecen, en un perpetuo tejer y destejer, en la eterna, pacífica y desesperante espera.

La colección compone su mundo, esteriotípicamente femenino. Sus lámparas sus asientos y su espacio en general, constituyéndose a partir de materiales y herramientas textiles aludiendo al cuerpo apresado y tejido de Penélope. Los objetos se inspiran en objetos de costura y tejido como telares y conos de hilado con una fuerte impronta de trabajo manual como una forma de comunicar su trabajo y dedicación a través de estos procesos textiles.


MAR DEL PLATA 2019
COLECIÓN
EXIBICIÓN DE TEATRO Y DISEÑO
"Stitched Bodies" was born as a set of objects and illustrations resulting from the link between theater, art and design from the play "Penelope en Viaje". Penelope, whose story is always told behind Ulysses' back, is just that woman who has been relegated to the figure of the hero. No one talks about their sufferings and hardships, no one talks about the courage to face uncertainty, their daily odyssey. This is her prison, that which silently holds her in her duties as a woman, her looms, her threads and embroidery, where her wooden body is intertwined in ropes that silence her, in a perpetual weaving and unweaving, in the eternal, peaceful and hopeless waiting.

The collection makes up her world, stereotypically feminine. Its lamps, its seats and its space in general, constituting itself from textile materials and tools, alluding to the captured and woven body of Penelope. The objects are inspired by sewing and weaving objects such as looms and spinning cones with a strong imprint of manual work as a way to communicate their work and dedication through these textile processes.



MAR DEL PLATA 2019
COLLECTION
THEATER AND DESIGN EXHIBITION